337 - Gubbels, Welder
15168 views
Municipality of Tilburg
40 hours per week
€ 10,95 per hour bruto
NL contract
Metal
Vacancy description
Good welder is always welcome! Let's make a deal: You will show us what you can do during the probation period and then we will agree an hour rate that sastsfies you.
Welding and reparation of machinery, finishing welding work for construction machinery as like big trucks, cranes, etc. Also small all-round duties in and around the company.
We offer
Employment with stable work and Dutch contract at the company B.A.M. Vermeer Uitzend B.V.
Your salary will be build up from the following amounts:
Starting with a basic bruto salary of € 10,95 per hour, for candidates with experience salary will go up after a probation period.

Upgrades possible depending of motivation to learn more in the company to become independent.

4-week period payment in euro's, within 10 days after end of period

Deduction for health insurance: € 107,64 per 4 weeks

Rent of living location: € 87,50 per week (there is special discunt when worker is living on our location for more than 26 weeks a year)
You are obligated to have Dutch health insurance, we can arrange this for you for a competitive price of € 107,64 per 4 weeks. A refund for a part of these costs can be requested at Dutch government by applying for so called 'Zorgtoeslag', the refund depends of your salary level and private circumstances.Further, we are using collective services that contains: calamity coverage, legal liability insurance and accident insurance for € 7,52 per 4 weeks (included in the price above).
Worktime
Normal working days will be from 07:00h until 16:00h or 17:00h.
Work schedules will be agreed with the client, this is the same for confirmations for holidays.
Transport from a living location to work location will be by car,bus or by bike. It depends which living-location you will going to live. If it will be too far to go by bike, you will receive bus or car.
Travels from and to your home country are for costs of the employee, we can make a reservation for a place in one of our buses or book a plane ticket for you, the costs of this travel will be deducted from your salary. In case of flights to Eindhoven or Weeze airport, we can arrange transport to and from the airport. These transports to and from the airport can be for free in the weekend if we have option to make a combination trip.
What do we expect from you?
Experience in welding is required
Basic knowledge of construction work or demolition is prefered
Good English or German language or motivation to learn Dutch
You are able to work independently but also in a team, you are flexible and motivated
Driving license B is required
Certificate of Good Conduct
Further information
Living location
WiFi internet,
toilets + showers (shared),
washing machine + dryer,
kitchen,
bicycle (with € 50,- deposit),
supermarket within 10 minutes by bicycle.
Rental costs are € 87,50 per week, also for the weeks during holidays when you want to keep your own bed. After cleaning up and empty your room, you will not be charged for living location during holidays.
Deposit for the keys of the house will be € 50,-. After return of the keys, you will receive deposit back.
| | |
| --- | --- |
| Hours | 40 hours per week |
| Salary | € 10,95 per hour bruto |
| City | Helvoirt |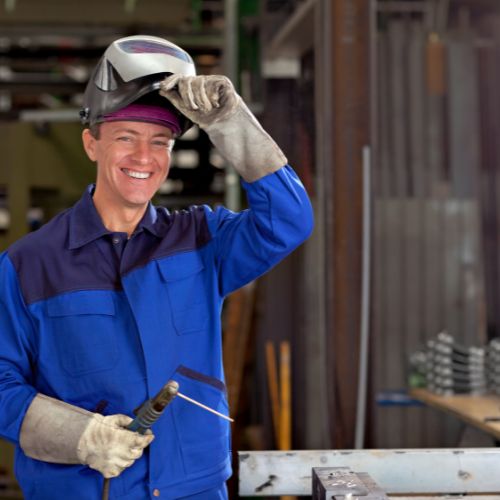 Question about this vacancy?
Call +48717166857 or email recruitment@bamworks.eu