Allround worker assistant bike mechanic
Apply now
Bike Totaal Paul van Korven
2118 views
Municipality of Goirle
40 - 45 hours per week.
12,43 gross/hour
NL contract
Maintenance
Vacancy description
We are searching for an allround worker at the company. The main job will be taking care of the reparation of bicecles. Interested? Apply now!
We offer
Employment with stable work and Dutch contract at the company BAM Works B.V.,
Basic bruto salary of € 12,43 per hour,
Weekly period payment in euro's,
Deduction for health insurance: € 26,92 per week,
Rent of living location: € 87,50 per week
Responsibilities
Main tasks are:
selling bicycles
taking care of the reparation of bicecles
Worktime
Work is from Tuesday till Saturday from 09:00 till 17:00
Work schedule and holiday plans need to be agreed with the planner.
What do we expect from you?
Motivation to work, flexibility and willing to develop and learn,
Ability to work independently, but also in a team,
English or German and/or NL language is required,
Certificate of Good Conduct,
Experience at similar type of work will be good advantage.
Further information
Living location:
WiFi internet
toilets + showers (shared)
washing machine + dryer
kitchen,
bicycle (with € 50,- deposit)
We provide a bike at our living locations (with €50 deposit). This with the purpose of traveling to work, but also to use in your private time to visit shops. In case the distance between work and living location will be more then 8km, we will provide different transportation.
| | |
| --- | --- |
| Hours | 40 - 45 hours per week. |
| Salary | 12,43 gross/hour |
| City | Goirle |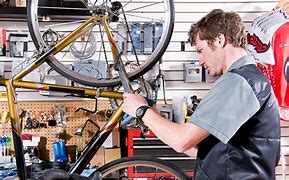 Contact information
Roksolyana Kaluhina
recruitment@bamworks.eu
+48717166857