661 - Van Gompel, Berries
11138 views
Municipality of Reusel-De Mierden
38 to 48 hours per week
€ 10,48 brutto/hour
NL contract
Agriculture
Vacancy description
For one of our clients in Reusel we are looking for candidates able to work at the harvesting of blue and/or red berries.
This is a seasonal work; it will start beginning of July and will be finished half of September.
We offer
We can offer:
stable work on dutch contract at BAM Works B.V.
possibility to continue cooperation when current project is finished
starting with a basic bruto salary of € 10,48 per hour
weekly payment in euro's,
deduction for health insurance: € 30,66 per 4 weeks
accommodation at the comfortable 1- or 2- persons rooms; rent of living location: € 87,50 per week
Worktime
This work is for 5-6 days per week, from beginning of July till half of September
Working time is between 7:00-18:00.
You will go to work by bicycle or by company car (depends on the distance between working- and living location).
Work schedule and holiday plans will be agreed with the client.
If it's needed we can help you to organize a transport from your country to the Netherlands.
What do we expect from you?
Motivated, willing to develop and learn
Certificate of Good Conduct
Experienced with harvesting of berries and English language will be an advantage, but isn't required
Further information
Living location
We provide normal living locations with a maximum of 18 employees (from 1 to 2 persons in one room) which are according to the SNF standard,
WiFi internet
toilets + showers (shared)
washing machine + dryer
kitchen, bicycle (with € 50,- deposit)
supermarket within 10 minutes by bicycle.
| | |
| --- | --- |
| Hours | 38 to 48 hours per week |
| Salary | € 10,48 brutto/hour |
| City | Reusel |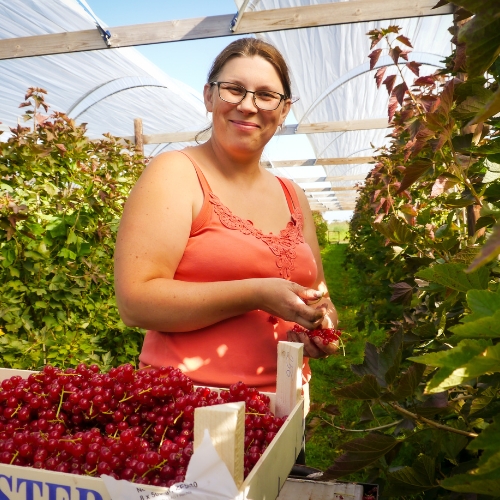 Contact information
Sara Chyla
recruitment@bamworks.eu
+48717166857