539 - Loppersum
3133 views
Municipality of Eindhoven
35-55 hours per week
€ 10,55 brutto/hour
NL contract
Production
Vacancy description
We are searching for candidates who want to work at production of salads and packing fruits and vegetables. Do you have an experience? Do you wanti to try something new? Apply now!
The company consists of two departments: wholesaler and production of cut vegetables.
the wholesaler deliver products (based on orders from the client) and at production fruits and vegetables are washed and cut and then packed or used as an ingredient in salads.
This work is very varied.
We offer
Stable employment on dutch contract
basic salary € 10,55 brutto per hour (for the beginning) and salary raise to € 10,88 brutto/hour after 6 months
salary paid weekly
working clothes (sweatshirts and T-Shirts)
renting a room (cost is €90 per week)
unpaid transport to work (by company car)
health insurance in a good price: €25,85 per week
Responsibilities
Daily tasks are:
washing, drying, packing fruits and vegetables and preparing salads from them,
manually and machine cutting of vegetables and fruits,
operation and preparation of machines for cutting and packing.
Worktime
Worktime is form Monday to Friday, and each second Saturday, 7 to 12 hours per day (up to the total amount of orders).
Working hours are from 6:00 to 13-18:00 or from 10:00 to 17-22:00.
Work schedule and holiday plans will be agreed directly with the client.
Transport to work is by company car (employees can use it unpaid for travels to work and back to living location).
What do we expect from you?
experience in work at the cold store
motivation to work
ability to learn and develop
Further information
Living location:
accommodation in single-family or terraced houses, in double rooms
fully equipped kitchen
WiFi Internet
washing machine
| | |
| --- | --- |
| Hours | 35-55 hours per week |
| Salary | € 10,55 brutto/hour |
| City | Eindhoven |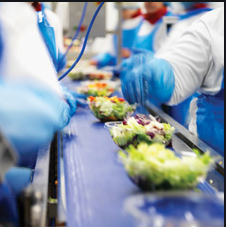 Question about this vacancy?
Call +48717166857 or email recruitment@bamworks.eu